1971 was the year when the first Pharaoh Hound came to Scandinavia. Her name was Merymut Nepthys, "Cindy", and she later also became the breed's first European FCI champion. Anja Jansson was the one who brought Cindy to Sweden and when Madelene saw her she fell in love with the breed. Anja and Madelene then decided to buy a male as well and Merymut Khephri was imported.
Cindy and Khephri became the proud parents of the first Enigma litter born in 1975. A few more English imports followed as a complement to the new Enigma line as well as one Maltese import.
Anja remained as a partner in the kennel until 1992 and in 1994 Sofie became a partner in the kennel, although in reality she had been one for years.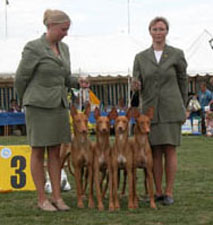 In the mid 90's the recognition for the breed became more obvious, something we had struggled for for many years. At last the Pharaoh Hound was recognized for its beauty and more judges became interested in the breed.
In 1999 Enigma was No. 10 top winning breeder (all breeds) in Sweden and we had very prominent placements several times in the years that followed. 2002 has been the best year so far with a third placement in the competition "Breeder Of The Year".
Our most memorable win so far is probably when Vega, Multi Ch. Enigma Surprise Me, won BIS at the European Winner Show in Austria in 2005 over an entry of more than 10.000 dogs.
We are also very honoured to have received the Stockholm Kennel Club award "Breeder Of The Year 2001".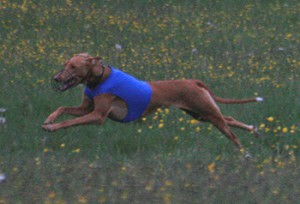 In 2005 we received the Swedish Kennel Club award for breeders who title their dogs in working dog events (in our case lurecoursing)! (SKK's bruksuppfödarepris)
In 2008 we received the Breeder medal of the Swedish Sighthound Club (Svenska Vinthundklubbens uppfödarmedalj)

We also have many top winning awards in conformation for Pharaoh Hound Of The Year and Basenji Of The Year in Sweden, as well as World Winner, European Winner, Nordic and Swedish Winner titles and Crufts Winners
In 2003 our first Basenji was born. Ch. Unique Creation Out Of Africa, Paris, became our foundation bitch in the breed. She produced for us some lovely children, among them Ch. Enigma Touch Of Magic (the breed record holder for most CAC's in Sweden) that also produced a lovely litter for us and we have continued that line in our breeding program.
Our aim is to breed sound and healthy Pharaoh Hounds and Basenjis always true to type. We have never produced more than an average of one litter every other year as we want to achieve quality rather than quantity, only breeding the best of our dogs. We only plan a litter when we intend to keep a puppy ourselves to continue our breeding program.
All our dogs will always first and foremost be highly loved members of our families but yet many of them are amongst the top winning Pharaoh Hounds and Basenjis in Sweden. We do not keep more than a few dogs of each breed at home so we are depending on great co-owners and families that have them on breeding terms. We have been very lucky in that way and made many great friends through our puppy buyers.
Madelene started with dogs in 1964. Her first two dogs were a Doberman and a Saluki, but since 1972 her heart has been with the Pharaoh Hounds.
Madelene passed the Swedish Kennel Club test "Anatomy and judging technique" in 1993 and has judged breed specialties, matches and open shows since 1994.
Madelene is one of the founders of the Swedish Pharaoh Hound Club and for many years she was the club's chairman as well as secretary of the Swedish Sighthound Club's Eastern branch.
Sofie was born into dogs and as a three-year-old she handled her first Pharaoh Hound. Very eager to learn she spent a lot of time in the whelping box as well as helping out with the dogs in the family. The love for the Pharaoh Hounds, and of course other breeds too, has been there ever since.
Sofie passed the Swedish Kennel Club test "Anatomy and judging technique" in the spring of 2002 and at the time judged quite a lot of open shows.
For some years Sofie was a committee member of the Swedish Pharaoh Hound Club.
In 2011 Sofie became an official FCI judge for Pharaoh Hounds, Basenjis, Salukis; Whippets and Rhodesian Ridgebacks with a few more breeds soon following. Read more here.
We are located in Örsundsbro, just west of Stockholm, Sweden. From where we live it takes less than an hour both to Stockholm city and Arlanda airport. We live in the country side close to the woods and fields where we walk our dogs every day. Don't hesitate to contact us if you are interested in any of our breeds. We welcome everyone to contact us, no matter if you are "just" a pet home or you want to show and do other activities.